With Walt Disney World's 50th anniversary celebration in full swing, it's interesting to look back at the inspiration for, construction of, and history about, some of the park's most popular attractions.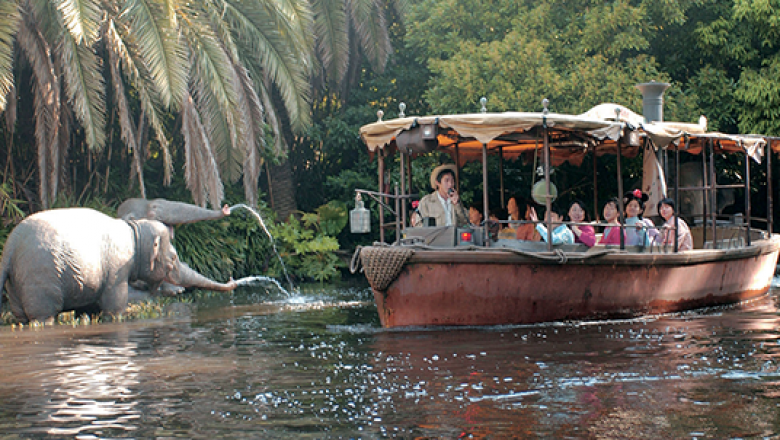 From classics like Peter Pan's Flight and the Jungle Cruise at Magic Kingdom to Spaceship Earth at EPCOT, and from newer-generation attractions like Toy Story Mania and Slinky Dog Dash at Disney's Hollywood Studios to Avatar: Flight of Passage at Disney's Animal Kingdom, one thing is sure: the creative directors, visionaries, artists, architects and engineers that make up the Walt Disney Imagineering team continue to rise to the challenge and far exceed some of Guests' wildest dreams when it comes to new, exciting, innovative and immersive attractions and experiences.
They are, after all, Walt Disney Imagineers.
But what about attractions that came before there were attractions?
Walt himself was a visionary, a creative genius, a man who could see potential in the creation of something new and pour his genius and his imagination into it, be filled with excitement over it, and spur others to well up with excitement too. Like the Christmas spirit, the Disney Magic is wildly contagious.
According to Roy Disney, Walt's brother and business partner, there was a short time after Disneyland was built that Walt had no desire to go beyond Disneyland. But then Walt had a thought–a thought about people in the eastern and midwestern United States who would never, or could never, make the journey as far west as California to experience Disneyland.
And just like that, the hush-hush "Florida Project" was born.
It wasn't until after all the swampland was purchased–most of it under bogus business names, so as not to reveal that Disney was at the helm of another project–that anyone would know anything about a new Disney theme park on the East Coast.
RELATED: Family remembers the day they sold their land to Walt Disney for his "Florida Project"
Walt had plans so spectacular for his Florida park, that he knew that once those plans became public knowledge, he would have to "sell it" to the people of Central Florida. Rather than expecting others to understand his vision and buy in instantly, Walt knew he would have to give them a visual, tangible exhibit of sorts so they could begin to see the vision.
So that's exactly what he did.
It was the birth of the first Disney attraction in Florida, called the Disney World Preview Center. The building that housed the Preview Center is still located in Lake Buena Vista, although it hasn't been home to the center in almost 50 years.
The center was used as a means for explaining an unprecedented vision: a brand-new, never-before-imagined idea for family entertainment.
By this time, Americans knew who Walt Disney was. They knew about his Disneyland in California. They were familiar with him from the television specials. But they still needed to understand what this so-called "Florida Project" entailed.
The Preview Center would accomplish this for Walt. It would not only garner public acceptance and approval of Walt and his team and their plans for building on the swampland in Central Florida; it would also create an excitement and an anticipation for what was to come. It would help visitors to imagine what Walt's new ideas for family entertainment might look like.
The center opened on January 10, 1970, and it closed on September 30, 1971, just one day before Disney World opened.
There were exhibits inside the center, and a team of hostesses was at the ready to help visitors with any questions they had about the new theme park.
The Disney World Preview Center quickly became a hot item in Central Florida. More than one million people visited the site in the short 20 or so months it was open.
It was the attraction before the attractions–and that's why it's often called Walt's most popular attraction ever.