Goodbyes are never easy, even when they aren't the forever kind.
Saying goodbye to friends who visit from out of state, saying goodbye to summer, saying goodbye to a Disney vacation–all of these can be very hard. But there's something that's especially emotional about sending a child off to college for the first time. PIXAR apparently knew this, and they made it part of one of the most important scenes in the third installment of the Toy Story franchise.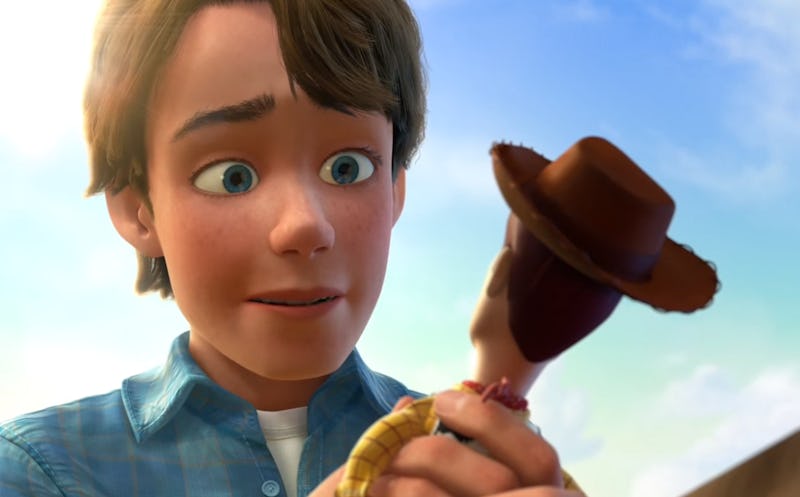 RELATED: Lawsuit concerning stuntman toy in "Toy Story 4" is thrown out of court
In the scene at the end of the movie (yes, this is a spoiler; the film has been out for 11 1/2 years), Andy delivers his beloved toys to the daughter of a family friend, Bonnie. Bonnie is young and shy, but the excitement over a box full of new-to-her toys is too much for her to contain. We get caught up in the joy of Bonnie's newfound friends, only to have our spirits squashed when we get back to reality and realize that Andy is old enough (already!) to be going to college.
It's heart-wrenching.
Darn you, PIXAR!
The same must have been true for a Mom in Somerset, Texas, who was preparing to send her son off to Baylor University in Waco, Texas.
Josiah Robles, a mechanical engineering major, was photographed walking away from his Somerset home with his toys saying goodbye. Yes, even Woody and Buzz were there for the departure. The photo is a recreation of that final scene from Toy Story 3 when Andy heads off to infinity and beyond at college.
so long somerset. ?? pic.twitter.com/IeR6QKPk6S

— Josiah ✞ Robles (@jojo_xcviii) May 29, 2021
"We thought it would be a good idea to do it with 'Toy Story' toys considering that I will be going off to college, like kind of what Andy did when he left the toys in the movie," Robles explained.
RELATED: New "Toy Story"-themed Resort Hotel to open at Disney Park in April 2022
A Dad in England took a similar photo the day his toddler was finally able to go back to school after a COVID lockdown kept him at home for months.
An English boy's first day of school has gone viral after he recreated the iconic goodbye scene from the Pixar movie "Toy Story 3." Many people have found the images extremely heartwarming and shared to spread some positivity during this hectic school year. pic.twitter.com/SzTQ8F5L8D

— HIBster (@EDS_HIBster) September 17, 2020
It was hard enough to watch in the film, but when it's our own kids, it's even harder! But Disney and PIXAR make everything better, so we're hoping that Woody and Buzz made it easier for this mom and this dad to say goodbye–whether it was for the semester or for the day!