Disney Parks are famous for their iconic fairytale castles. They seem to bring out the prince or princess in all of us.
Each of the Disney castles is a masterpiece, inspired by actual structures of eras gone by and kingdoms long forgotten. Disney Parks have mastered the art of taking inspiration from the old, breathing new life into it and delivering it to Disney fans in unique ways all the world over.
Disney Parks castles were inspired by actual European castles. Some of the inspiration comes from Bavarian and other German castles, French castles and Scottish castles. Castles at Disney Parks also draw inspiration from many of Disney's classic animated films.
Recently, a cluster of castles that draw their inspiration from some of Disney's castles has been discovered in Turkey. There are 537 of them!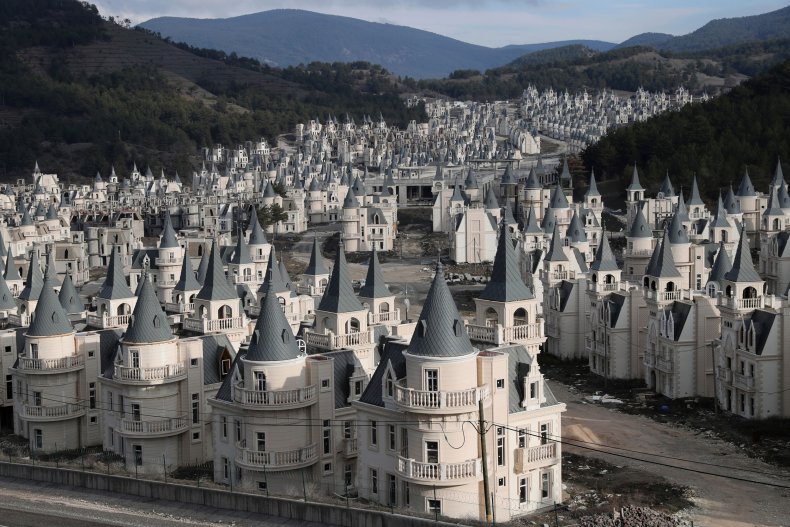 They are located about 2 hours east of the city of Ankara, Turkey, at the Burj al Babas Resort. You may wonder why you've never heard of the resort.
It's most likely because the project, for which construction began in 2014, has never been fully completed.
It was to be the Burj al Babas Resort, built for prestigious clientele: wealthy guests from the western hemisphere and the Middle East. The $200 million project was begun by the Sarot Group, headed by brothers Mezher and Mehmet Yerdelen.
The plan was to build 732 beautiful mini-chateaux, each one selling for between $370,000 and $500,000 and inspired by some of the architectural touches of Disney's beautiful castles, including turrets, mansard roofs, balconies with stone balustrades, and dormers.
Unfortunately, a failed political coup, an economic downturn, falling oil prices and inflation each played a role in the demise of the Burj al Babas Resort.
By 2018, only 350 chateaux had been sold. Only 537 had been built, and then things got even worse. Investors began to pull out of the deal, and buyers backed out of their contracts. The Yerdelen brothers were $27 million in debt and were forced to file for bankruptcy.
Then, the unexpected happened. The bankruptcy was overturned on appeal. The Yerdelen brothers had 50% of their debt forgiven, and the judge presiding over the case allowed for them to begin marketing the resort again. They made plans to finish the project this year, but the coronavirus pandemic foiled those plans as well.
Though they look like rows of magical Disney castles, the chateaux at the Burj al Babas resort were more akin to a nightmare than a happily ever after, and to this day, the beautiful structures serve as a memory of something that was to be grand, but the locations feels more like an abandoned ghost town.