Disney+ has finally made it into the realm of fanbase division with its announcement that beginning Friday, the streaming platform with feature films with an "R" rating, but one actor says the same rating should be given to several of Walt Disney's most beloved classic films.
RELATED: These are the lessons we've learned from watching classic Disney films
On Thursday, Disney announced that the Deadpool films and Logan, each of which stars actor Ryan Reynolds, would become available for streaming on Disney+ on Friday. The announcement created a buzz among Disney's fanbase as the newly-streamable films are decorated with an "R" rating, leading some to feel the House of Mouse has gone too far in adding such content to a platform they think is–and should be–family-friendly.
Reynolds is known as a cut-up who can't pass up the chance to be funny about such news. And whether it was in response to some fans' disapproval of the additions to Disney+, a silent confession about his childhood fears while watching Disney films, or simple Reynolds-style hilarity, the actor took to social media shortly after Disney made its "R-rated" announcement (pun intended) to have a little fun.
In a tweet on Thursday, Reynolds said, "We're supposed to announce [that] Logan and Deadpool will soon be the first R-rated movies on Disney+. But we all know some Disney movies should already be rated "R" for irreversible trauma."
In true Ryan Reynolds fashion, the actor took things even further by including four separate rating cards for various Disney classic films: Snow White and the Seven Dwarfs (1937), Old Yeller (1957), The Lion King (1994), and Bambi (1942).
(We'll admit that when we heard about Reynolds' list, we knew Bambi would be among those that cause "irreversible trauma." After all, who hasn't been traumatized by the film?)
Reynolds says each of the films should be given an "R" rating, and he's very specific about the reasons for such an MPAA rating.
Beginning with Disney's Snow White and the Seven Dwarfs, Reynolds says an "R" rating is appropriate as the film presents the topics of "breaking and entering, borderline polyandry," and he tweeted that he's "pretty sure those diamonds aren't cruelty-free." The card further suggests that viewers under 17 must be accompanied by one parent or "seven adult guardians."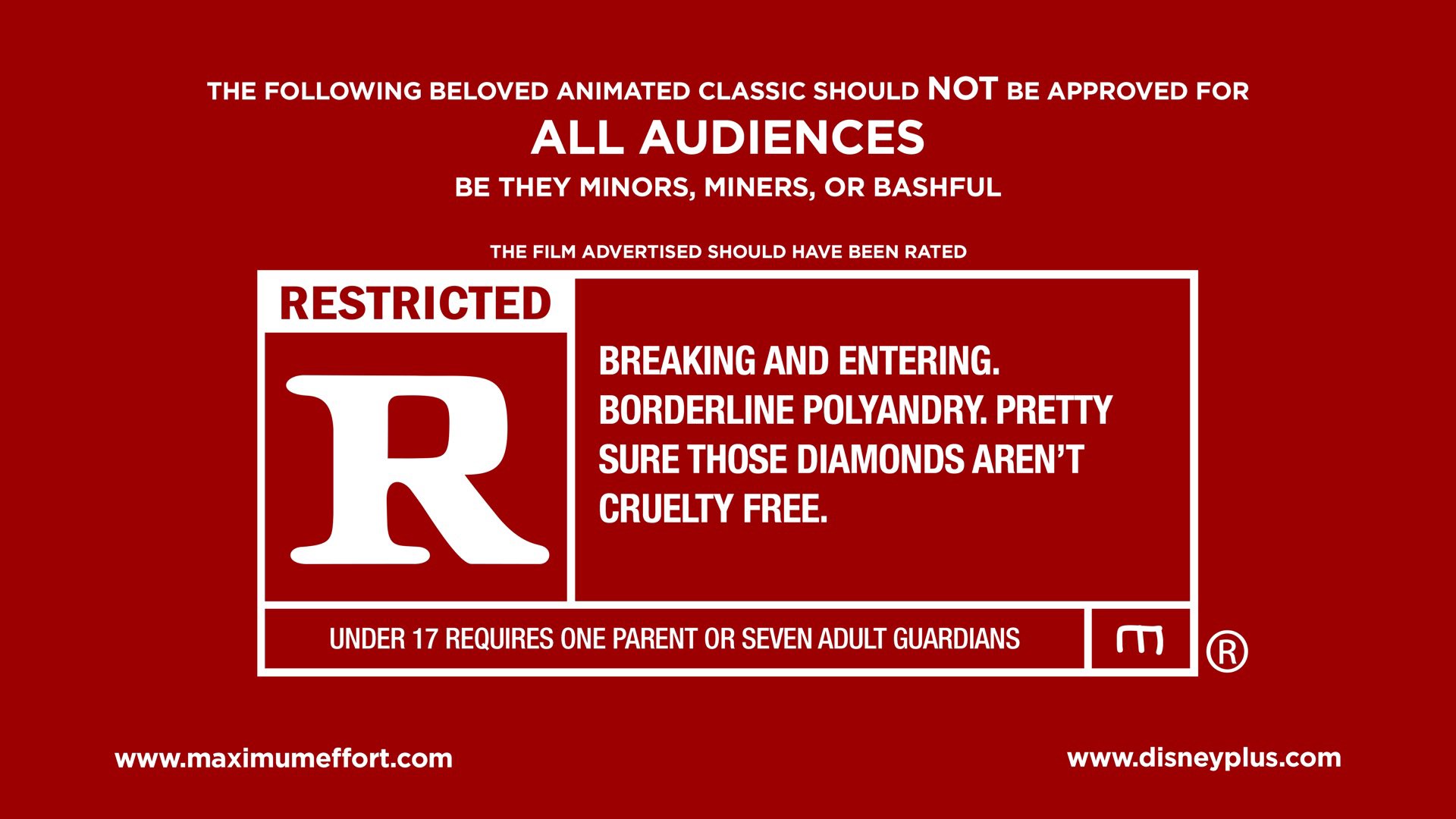 Disney's Old Yeller, according to Reynolds, should be rated "R" for the "total ugly cry-inducing straight-up murder of Old Yeller" and "also, bear abuse." The rating card further states that "this motion picture should NOT be approved for all audiences, particularly dog lovers."
The Lion King made Reynolds' list because of its "fratricide, mauling" and "very possibly half-sibling lovin', or at least kissing cousins."
Also, Reynolds says that "under 17 requires parent, warthog, and meerkat."
Reynolds saved the best for last with Disney's 1942 classic Bambi, saying that the 80-year-old film should be re-outfitted with an "R" rating, thanks to the "cold-blooded killing of an innocent deer mom that will cause lifelong trauma."
We're supposed to announce Logan and Deadpool will soon be the first R-rated movies on Disney+. But we all know some Disney movies should already be rated R for irreversible trauma. pic.twitter.com/FoIbiwKhiG

— Ryan Reynolds (@VancityReynolds) July 21, 2022
No matter where fans stand on the issue of "R"-rated films on Disney+, surely we can all agree these made-up MPAA ratings are not only fitting but fairly hilarious as well.