For Disney superfans, there's no such thing as visiting Disney World or Disneyland too much. That concept is altogether inconceivable, and it's why they become frustrated when asked, "You're going again?" (Cue the conglomerate eye-roll.)
And while we're at it–the answer is yes. Yes, we are those terrible "Disney Adults" you've heard so much about!
RELATED: "Disney Adults" are awful human beings, and some are barely human at all
But because the Disney Parks empire is so vast and its history so rich and full of magic–sometimes down to the most minute of details–even Guests who visit the parks all year long, every single year can learn something new about the parks every time.
Walt just had a knack for that kind of thing. But despite his untimely death and the fact that his first park is more than 65 years old now, the Disney Parks story can continue to be shared, thanks to the photographs and videos that forward-thinking Imagineers and Cast Members captured so long ago–many of which still have not been widely circulated.
Once upon a time, there was a radio program that aired five days a week and shared little-known facts and stories with its ever-expanding audience. The Rest of the Story was a program hosted by ABC News' Paul Harvey. The broadcast began as part of Harvey's coverage of World War II but continued on May 10, 1976, as its own series across ABC Radio's networks.
Harvey often ended his stories with, "And now you know the rest of the story." In like fashion, some of these rarely-seen photos offer Disney Parks fans a look at the untold story of attractions, of Walt himself, and of other goings-on behind the scenes that serve to make Disney World and Disneyland all the more magical.
Betcha haven't seen some of these until now.
Disney's land before it was Disneyland
Walt Disney looked for the perfect spot for his new theme park, and he found it in a 160-acre orange grove in a little place called Anaheim, California. Its proximity to a major highway, as well as the fact that it was only a 45-minute drive from Los Angeles, made it the perfect place to build Disney's first family entertainment venue.
Walt Disney is featured in TV Guide, plugging his "TV program of the year" on ABC
Walt had a map drawn up of his plans for Disneyland. Then his brother–and business partner–Roy Disney took the detailed drawing with him to ABC and managed to turn the tide. ABC agreed to loan Disney $500.000 and guarantee $4,5 million in loans in return for a one-third ownership in Disneyland and a promise of a weekly Disney television show for the network, per DesigningDisney.com.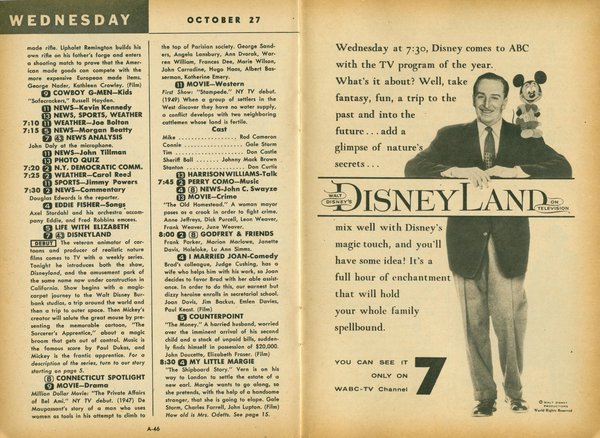 On October 27, 1954, Disney's new series, titled "Disneyland," aired for the first time.
Walt Disney takes a moment to survey his park: the realization of his dreams
A rare colorized photo of the entrance to Disneyland on July 17, 1955
Excited children run through the brand-new Sleeping Beauty Castle on Disneyland's Opening Day
While the above photo depicts children thrilled to finally gain access to the park Mr. Disney talked about on his ABC TV program, Opening Day at Disneyland was anything but carefree, according to MentalFloss:
More than 28,000 people laid siege to the meticulously-planned theme park on its opening day, many of them navigating the invitation-only affair by either sneaking in or handing in counterfeit passes when the gate opened at 2:30 p.m. Overcrowded and baking in the blistering 100-degree heat, so much went wrong when Disneyland opened its doors that Walt Disney himself would later label the affair "Black Sunday."
The newly-poured asphalt on Main Street, U. S. A. melted under the blistering sun, and ladies' high-heeled shoes became stuck in the tarry goo. Because attendance exceeded invitations by more than double, the park had a food and beverage shortage. Plumbers were on strike at the time, so we'll leave you to just imagine the kinds of problems that ensued because of that.
Even the Mark Twain Riverboat–overloaded with Guests–eventually began to sink under the weight of those over-eager fans. In the photo above, it's easy to see how low the riverboat is in the water.
All of these problems took place in front of the children who were in attendance at the park that day, as well as their parents and some of Hollywood's elite.
Then-actor (later President) Ronald Reagan gave a speech at Disneyland on Opening Day
Sleeping Beauty Castle has a working drawbridge
Sleeping Beauty Castle has long been the most recognizable icon at Disneyland Resort in California. It differs from Disney World's Cinderella Castle in several ways.
First, Disneyland's castle is much smaller than Disney World's. At only 77 feet tall, Sleeping Beauty Castle stands a full 112 feet shorter than Cinderella Castle. Another difference between the two is that the drawbridge at Sleeping Beauty Castle is a working drawbridge, whereas the drawbridge at Cinderella Castle (and every other Disney Parks castle) is merely a facade and has no functional mechanism to it.
It's important to note, however, that Sleeping Beauty Castle's drawbridge has only been lowered twice since 1955.
A lingerie shop right smack-dab on Main Street
No long explanation needed. Once upon a time, Disneyland featured an intimate apparel shop, and here's the photo to prove it.
To make things even more uncomfortable for some Guests, there was even a "Wizard of Bras" at the Hollywood-Maxwell shop at Disneyland. The "wizard" was a mechanical being that served as an "emcee" as Guests browsed. This is one of the only known photos of the mechanical Wizard of Bras from a newspaper supplement that advertised Disneyland and its offerings.
I don't know about you, but when I think about purchasing bras and other unmentionables, the thought of Disney Parks does not even come into my mind. What about you?
Walt Disney passes away unexpectedly after a short battle with lung cancer.
The country is devastated, and local newspapers all across the United States document the sense of sadness felt at the loss of the innovator, creator, animator, and visionary, Walt Disney.
Disney World's Magic Kingdom begins to take magical shape
Cinderella Castle would be the icon of Walt Disney's newest family theme park in Florida. Walt's plans for his "Florida Project" weren't to die with him, and his brother Roy and his faithful Imagineers would see to that. They continued with Walt's plans for a massive Disney park in Central Florida that would ultimately include more than just the Magic Kingdom.
Disney World opens to the public in October 1971.
Walt's plans for a theme park in Florida finally came to fruition on October 1, 1971, but after the disastrous opening day at Disneyland in 1955, the decision was made to play it safe and not have the official Opening Day ceremony until the end of October, allowing for time to see that everything was functioning properly before a formal ceremony might bring a spotlight to any problems, as was the case at Disneyland.
Royal Turrets being delivered to Magic Kingdom via Interstate 4
You might think such a sight would "ruin the magic" for avid Disney World fans. But according to those who live near the parks, this isn't necessarily the case.
These photos from SparklyEverAfter.com captured the image of a truck with a flatbed trailer making a very special delivery to Magic Kingdom in 2015. It's difficult to tell whether the turret was a replacement for one atop Cinderella Castle, or if it was a new turret to be used at the "gateway" to New Fantasyland, which opened in 2016.
Once and for all, Walt Disney was not cryogenically frozen. Behold, his grave.
Since we are taking a stroll down memory lane with photos from the parks and photos of Walt over the years, it's appropriate to include some photos of Walt's grave, just to drive home the point yet again that Walt was not frozen after his death.
Walt passed away on December 15, 1966, and only a day later, he was cremated. His ashes were then interred at his gravesite at Forest Lawn Cemetery in Glendale, California.
It's important to note that the first human to ever be cryogenically frozen was James Hiram Bedford, who died on January 12, 1967. Dr. Bedford was cryopreserved after that point, which was approximately a month after Walt's passing.