Thankfully for diehard fans of Toy Story, the first film franchise for the PIXAR powerhouse was a huge success, leading to the creation, manufacturing, and distribution of adorable Toy Story-themed merchandise, including apparel, toys, items for the home, and collectibles of all kinds.
The popularity of the Toy Story franchise has also led to the development of the new Toy Story Hotel at Tokyo Disneyland, which allows fans of the toy-inspired films to stay overnight inside the animated worlds of the Toy Story films. Even Disneyland is getting a take-two of one of its hotels that will feature the excitement and adventure of the Toy Story storyline.
Now there's a new cafe inspired by the Toy Story franchise–and more specifically, the Little Green Alien Men in the films.
Fans can now visit the Toy Story Aliens Cafe inside Oh My Cafe on the third floor of Tokyu Plaza Omotesando. The cafe inspired by the Little Green Alien Men from PIXAR's Toy Story features a menu of food and drinks that are all nods to the adorable little green characters.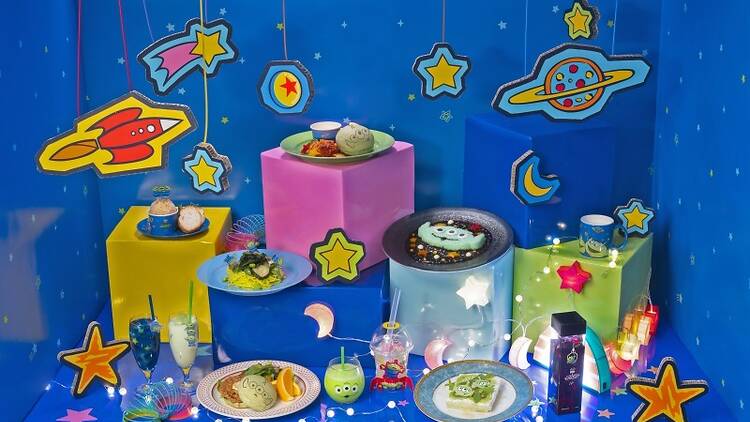 The menu includes three types of Alien Burgers–teriyaki soy meat, tomato soy meat, and chicken and potatoes–Space Curry, a dish with rice and black bamboo charcoal curry and the Alien-inspired Green Pasta with green vegetables (edamame, spinach, broccoli, and snap peas).
There's also Landing on the Moon, a dish with potatoes and bread that features the "moon" on a plate, and Alien Fruit Bread.
To complement the menu selections, fans can choose from different Little Green Alien Men-inspired drinks, like the Alien Smoothie, Space Soda, Melon Milk, and the Space Crane Cider.
This all sounds amazing, especially for the diehard Toy Story fan. There's only one drawback.
The Toy Story Aliens Cafe in Tokyo is only open until September 25, meaning that fans who want to experience Tokyo's cafe menu completely dedicated to the Little Green Alien Men will have to do so before the venue closes up shop and moves on to another location.
Yes, as fun as the themed cafe sounds, it's only a pop-up theming at Oh My Cafe, so if you're in the Tokyo area or visiting there soon, you can enjoy the menu at the Toy Story Aliens Cafe on the 3rd floor of Tokyu Plaza Omotesando. But hurry, the Little Green Alien Men will be blasting off after September 25.