There's been a lot of talk lately about boycotting Disney, but if you're like a lot of Disney fans, while you might not agree with everything going on with the House of Mouse (increased ticket prices, Genie+, Lightning Lane, Florida legislation issues, and the like), you're not so frustrated that you think a boycott is in order.
But let's be honest, some fans–even diehard Disney fans–just can't get away this summer for a trip to the parks. Some don't have the time to go so far, others simply can't justify the extravagance of a trip to the parks at this time, and others just don't want to battle the crowds this summer. Some just couldn't get the dates they wanted through the Park Pass Reservation System. We get it, and for you, there are some amazing opportunities to still get those Disney "feels" without all the crowds, the heat, the uncooperative Park Pass system, the . . . well, you get it.
ALSO READ: A "hunny of a house": Check out this Winnie-the-Pooh inspired Airbnb!
We looked around and found some of the most tricked-out Disney-themed homes available for rent in Florida and in other locations, some through Airbnb and some through Vrbo. See what you think about these super magical Disney getaway homes!
The

T

o

y

S

t

o

r

y

H

o

u

s

e

in El Paso, Texas $212/night*
Do you love Sheriff Woody, Buzz, Jessie, and all the Toy Story gang? This is the getaway house for your Disney/PIXAR staycation or vacation away from the parks. The entire house is available to Guests who rent this house through Airbnb. It's called the Toy Story Experience. Per the Airbnb website:
"Your Toy Story Experience is here!! Welcome to a next-level vacation home brought to you by My Experience Matters. This home features 3 bedrooms and 2 full baths, all rooms and living areas are available for use."
The home features 3 bedrooms, 2 baths, and living areas, each one decked out in its Toy Story best.
Forky hangs out in the kitchen while the other members of the Toy Story gang decorate every square inch of the inside of the home.
One of the bedrooms even features the blue sky and white clouds from Andy's room in the Toy Story film franchise.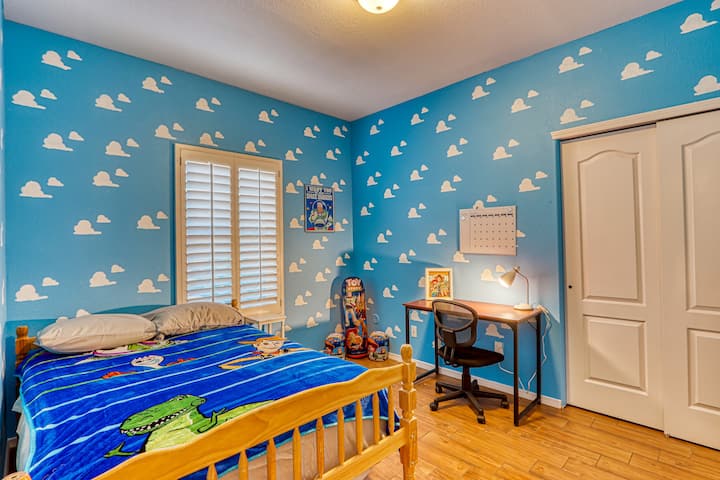 Multi-Disney-themed "Magical Clubhouse" in Kissimmee, Florida $334/night*
This one-of-a-kind themed home located in Rolling Hills Estates in Kissimmee, Florida, is available for rent through Airbnb. It is located 4 miles from the Walt Disney World Resort and features 7 bedrooms with a total of 10 beds, 4.5 baths, a private swimming pool, a private hot tub, and more. The home has received positive reviews, and it's easy to see why.
Each of the seven bedrooms features a different theme. From Marvel's Avengers to Disney's Frozen, and from Star Wars to Mickey Mouse (and everything in between), there's a theme for everyone inside this large home that sleeps up to 15 guests.
The dining room features touches inspired by Disney's Beauty and the Beast.
Outside, there's a child's playhouse, and the entire area pays tribute to Disney's beloved 1937 classic, Snow White and the Seven Dwarfs.
Multi-themed house in Four Corners, Florida $345/night*
This themed home has it all! Located in Four Corners (Kissimmee), Florida, this vacation villa
is available for rent through Vrbo
. It features 3 king bedrooms, 2 queen bedrooms, a triple twin bedroom, and a media room with pullout beds. This home is located about 5 miles from the parks, but you won't even miss the parks when you walk into this home.
The villa features a living room and dining room with decor inspired by France and Disney's Beauty and the Beast.
There are 3 master bedrooms: a Cinderella-themed master, an Indiana Jones-themed master, and a Moana-themed master.
The house also features a Minnie Mouse-themed queen bedroom, a Toy Story-themed twin bedroom, and a Star Wars-themed media room.
Pirates and Princesses Villa in Osceola County, Florida $341/night*
This exciting vacation home is hosted by Airbnb and features all the charm and whimsy of Disney magic. It features rooms themed after some of Disney and PIXAR's most beloved stories! There are 4 bedrooms with 8 beds total, and 4 bathrooms so that 10 guests can sleep comfortably.
Have you ever dreamed of sleeping aboard the Jolly Roger? The kids can do just that in this home, but watch out for Tic-Tock Croc!
This Tinkerbell-inspired room with bunk beds is a little girl's dream come true!
There's also a Disney's Treasure Island-inspired room in this vacation villa!
Just look at the views from this patio!
We're not sure about you, but we're thinking any of these vacation villas would make great vacations by themselves!