The Splash Mountain ride at Disney World is no more, and the water has already been drained from the attraction. But some of that water made its way into Guests' bottles and jars and is selling online for big bucks.
Following the outcry of some, Disney made the decision in June 2020 to permanently close and reimagine the Splash Mountain attractions at Disney World and Disneyland Resort. Sunday evening, more than two years after Disney's announcement, the Magic Kingdom attraction was finally permanently closed, to the dismay of many adoring fans who loved the ride and wanted it to stay just like it was.
The hoopla over the soon-to-close attraction began weeks ahead of the planned closure, and Splash Mountain saw a 71% increase in wait times in the queue for the attraction in the month of January. On the day of the closure, some Guests waited as long as 220 minutes for the chance to ride a log flume over the 50-foot waterfall one last time.
Other Guests, however, were busy gathering water from the attraction and putting it into jars and bottles in preparation for selling it online–and monetizing a sad scenario for fans of the 30-year-old attraction.
On eBay, a listing for a four-ounce jar of water from Splash Mountain is selling for an initial bid of $75.00. But super-eager fans can "Buy It Now" for $350.00.
Per the description of the item, the water is from Disney World's Splash Mountain attraction and was seemingly bottled on January 22–the last day of operation for the attraction.
Another listing features a zipper bag of water–said to be from the Splash Mountain attraction as well.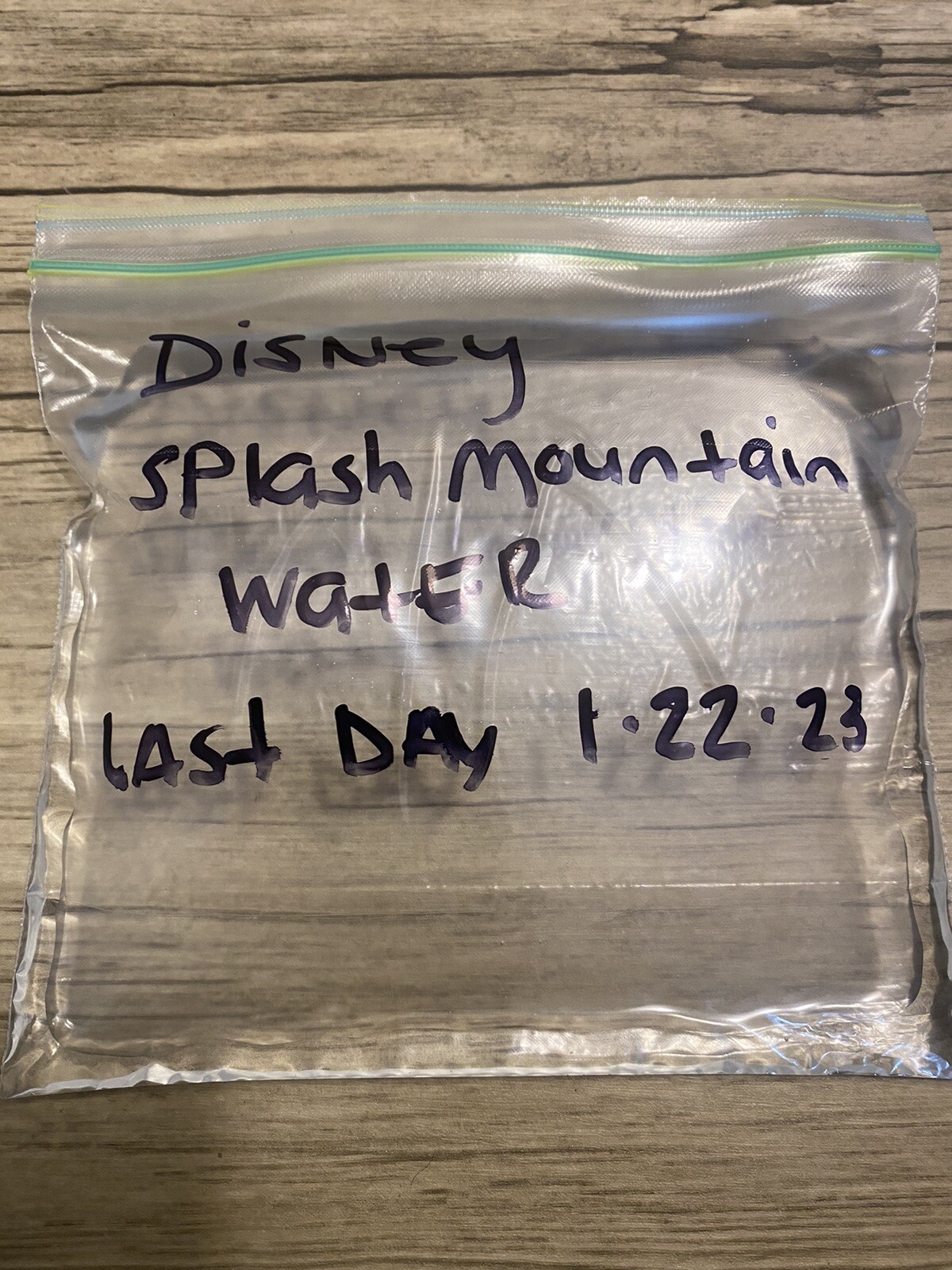 The plastic bag of water is listed on eBay for a starting bid of $25.00, but it's available at a "Buy It Now" price of $35.00. Splash Mountain attraction water is among several types of items being sold online as souvenirs of the now-defunct attraction. On Sunday, one user listed a tiny twig from the attraction on eBay as well. It was selling for a whopping $2,000!