Walt Disney had a remarkable knack for connecting with people.
He was also an intuitive entrepreneur and visionary who could see what his dream looked like in real life before any part of it was blueprinted and built. And when he combined those two talents, the results were often out of this world, and one attraction at EPCOT proves that better than anything.
Author Ray Bradbury is best known as an author, having enjoyed a writing career that spanned more than 70 years and led to the literary birth of more than 400 short stories and almost 50 books. He's also known as one of Walt Disney's treasured and trusted friends.
In 2005 at the age of 85, Ray Bradbury gave an account of the first time he met Walt Disney, per WaltDisney.org:
"It was 1964," Bradbury said. "I was Christmas shopping, and I saw a man coming toward me, loaded with Christmas presents. I said, 'That's Walt Disney!' I rushed up to him and said, 'Mr. Disney?' He said, 'Yes?' I said, 'I'm Ray Bradbury, and I love your movies.' He said, 'Ray Bradbury! I know your books.' I said, 'Thank God!' And he said, 'Why?' I said, 'Because I'd like to take you to lunch sometime.' And Walt said, 'Tomorrow?' Isn't that beautiful? Not, 'Next month.' Or, 'Someday.' Tomorrow. Walt was spontaneous. The next day, I met him at his office, and we had lunch—soup and sandwiches on an old card table. I told him how much I loved Disneyland, and he was thrilled to hear it."
But that was only the tip of the iceberg. Whether in the name of humility or because his time was not his own, Bradbury had only given an abridged, Reader's Digest account of his chance meeting with Walt Disney, as he revealed in two of his books, Yestermorrow (1991) and Bradbury Speaks (2005).
There was more to the story–much more. The day after Walt met Ray Bradbury, the two met for lunch in Walt's office, and the menu was anything but fancy. The conversation, however, was dazzling.
But that conversation started out as eerily telling–perhaps prophetic–but eerie, nonetheless, as Bradbury tells in his book. The science-fiction author recounts his first conversation at the Walt Disney Studios building with Walt's receptionist, who made it very clear that Bradbury would be allowed one hour with Walt and no more. The two brilliant minds met in Walt's office and exchanged warm greetings, per WaltDisney.org, and then, out of the blue, Walt said something that Bradbury didn't expect.
"Nothing has to die," Walt said to his new friend.
Bradbury would soon learn that Walt was referring to the New York World's Fair at which more than 140 pavilions from 80 different nations would be showcased–one of them being the General Electric pavilion for which Walt had been contracted to create his own brand of magic. Walt pointed out to Bradbury that in 1965, when the World's Fair came to a conclusion, everything would be torn down–every pavilion, every exhibition, every centerpiece.
Everything.
The two gentlemen agreed that such destruction was wasteful, and Walt proceeded to tell Bradbury about his plans to build a different kind of World's Fair in the state of Florida. Walt's eyes reportedly "sparkled" as he assured his new friend that though his "fair" would evolve over the years, it would never have to die.
That day marked the beginning of a wonderful friendship; some might say the friendship of a lifetime. But it, like Walt himself, was short-lived. Only two years after the amazing chance meeting between the visionary creator of Mickey Mouse and a man whose first claim to fame was as the author of a book about the temperature at which books burn, Walt Disney passed away following an extremely short battle with lung cancer.
RELATED: Walt Disney's untimely death led to a company cover-up and regulations about how Disney films were made
Before Walt felt ill, however, he shared some of his most creative and innovative thoughts, plans, and inventions, and he ultimately introduced Bradbury to artists, story writers, and Imagineers at Walt Disney Studios. As the two deepened their friendship, Bradbury began to offer insight and share his imagination with Imagineers as they worked on a myriad of Disney projects.
After being present for the ground-floor construction of the Pirates of the Caribbean and Haunted Mansion attractions at Disneyland, Bradbury founded PRIME: Promote Rapid Transit, Improve Metropolitan Environment, a group working to reduce Los Angeles traffic congestion.
"I watched the blueprinting and laying of the foundations for the Pirates of the Caribbean and the Haunted Mansion [attractions], meanwhile planning and replanning cities and malls in my head," Bradbury recalled. "One lunchtime, I said that Los Angeles needed a really good creative mayor like Walt. His swift response: 'Why should I be mayor, when I'm already king?'"
In 1965, Bradbury had the courage to suggest that Walt hire him to contribute to an overhaul of Tomorrowland at the Disneyland Resort, but Walt wouldn't hear of it.
"It's no use," Walt explained. "You're a genius, and I'm a genius. After two weeks, we'd kill each other."
"That was the nicest turndown I've ever received," Bradbury would later recall about that exchange.
The two geniuses had many more meetings over the next few months, but all came to a halt as Bradbury discovered that Walt was sick. In mid-December 1966, Bradbury was readying himself to meet with Richard Schickel, a film critic, who was working on writing Walt's biography. But before he could meet Mr. Schickel, Ray learned via the television in the room that Walt Disney had died.
Schickel called Bradbury on the phone and asked him if he had heard the awful news.
"I heard," he responded. "This is a terrible, terrible day. I'm devastated."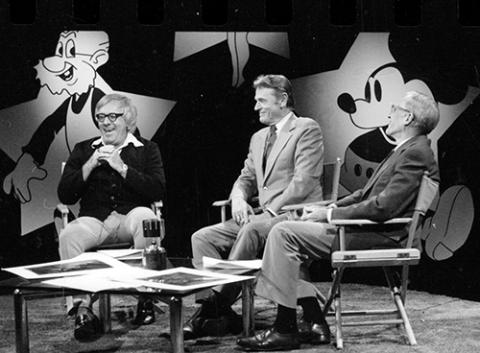 While Walt's death seemed to stop the world from turning for many who knew him and loved him, it didn't stop Bradbury's work with Walt's company. The renowned science-fiction author would go on to use his talents as a writer and as a visionary to draft the script for the Spaceship Earth attraction at EPCOT. He was also part of developing the structure of EPCOT's most iconic attraction.
RELATED: The Beacon of Magic is still the Beacon of EPCOT, and it's most amazing that you probably ever realized
Per WaltDisney.org, Disney's appreciation of Ray Bradbury lived on through others, and the feeling was mutual as far as Bradbury was concerned:
In 2007, in gratitude for Ray's contributions, Disneyland honored him with a decorated oak tree in Frontierland, named after his 1972 fantasy novel The Halloween Tree. Ray flipped the switch to light Disneyland's Halloween Tree for the first time on Halloween night in 2007. It has shone forth every autumn since.
In 1981, Ray wrote an appreciation of his friend Walt Disney for the ten-year anniversary of Walt Disney World Resort—the place Walt first described to him over soup and sandwiches in 1964. Ray said:
"We rarely think that just one man can shake and move a history of ideas and the world that grows from them. But let us think the unthinkable. What if Walt Disney had never been born?
Walt and his bright noon fancies stand alone in a wicked world and say: "Let's Do Everything Over and Do It Right." Walt says terrible things like: 'Joy, Smile,' or 'We Guarantee the World Won't End Tomorrow.'"
Bradbury's contributions extended past the Spaceship Earth attraction. Some of his imagination even found its way into the Phantom Manor attraction at Disneyland Paris. When the park, then known as Euro Disneyland, first opened in 1992, Imagineer Tim Delany dedicated the "retro-futuristic" Space Mountain attraction to his own personal heroes, authors Jules Verne (20,000 Leagues Under the Sea) and Ray Bradbury.
The ripple effects of the chance meeting and unlikely friendship/partnership between Walt Disney and Ray Bradbury continued until Bradbury's death–and even into the present day. In the foreword to Howard and Amy Green's book titled, Remembering Walt, Ray Bradbury wrote the following:
"Walt Disney was more important than all the politicians we've ever had. They pretended optimism. He was optimism. He has done more to change the world for the good than almost any politician who ever lived."
Walt once told Bradbury, "Nothing has to die," and he was right.