The words "toy" and "story" had surely been used in the same sentence for ions, but in 1995, the phrase "Toy Story" took on a whole new meaning with the theatrical release of Toy Story. Can we even remember life before Woody and Buzz? Rex and Hamm? Zurg? Andy? And what about that cloudy blue sky wallpaper?
RELATED: Brand-new Toy Story hotel opens at Disney Resort in April 2022
Four years later, when Toy Story 2 hit theaters, we met the yodeling cowgirl Jessie and her trusty sidekick Bullseye, realized how valuable Woody is, and met Kelsey Grammar as a flatulent old prospector. Toy Story 3 had us in tears over, well, a lot of things, including Andy's selfless gift to Bonnie and the fact that Andy was old enough to go to college.
We ugly cried over Toy Story 4, but in the name of brevity, we'll save a post about that fiasco for another day.
The franchise was originally created by John Lasseter, Pete Docter, Andrew Stanton, and Joe Ranft, and since its inception, it has grossed over $3 billion worldwide, making it the 20th highest-grossing franchise in the world and the fourth-biggest animated franchise.
Aside from Toy Story Toons like Toy Story of TERROR!, Toy Story That Time Forgot, Toy Story Hawaiian Vacation and Partysaurus Rex, and the recently released Disney+ story of Bo Peep between Toy Story 2 and Toy Story 4, called Lamp Life, there's been very little in the area of big releases until now.
PIXAR's Lightyear will enjoy a theatrical release in June 2022. And because a popular trend now (especially when it comes to Disney) involves "remakes" that boil down to the backstory of a character–often the villain within a Disney feature film–many PIXAR fans automatically assumed that PIXAR's 26th animated feature would be exactly that: Buzz Lightyear's backstory.
RELATED: Captain America is Buzz Lightyear in PIXAR's 26th animated feature film
What made him tick? What made him so sure of himself? What made him think he could fly? Had he actually ever done it? But alas, PIXAR does PIXAR, while Disney does Disney, and the result is Lightyear, the story that looks at the life of the man who inspired the Buzz Lightyear action figure, rather than inspecting the psyche of Buzz Lightyear.
If you're familiar with the toy-filled franchise, you know that the first installment, Toy Story, was an introduction to Woody and the gang, but it was also a season of soul-searching and identity-finding for Buzz. He goes limp when Andy comes into the room, doesn't want Andy to know he's "alive," but insists the planet is in danger at the hands of Woody, who has sullied his rendezvous with Star Command.
Woody has to set him straight.
This is confusing fans now, because all throughout the franchise, we know that Buzz is indeed a toy. So how/why is PIXAR making a film about the person of Buzz Lightyear?
According to Pete Doctor, Chief Creative Officer at PIXAR, in a recent interview with Hypebeast, there's always been a story about the real person behind the Buzz toy, even before the original Toy Story was released:
"According to Docter, this facet of the film was indeed discussed during the first production installment of the franchise back in 1995. Ultimately, the Pixar team decided that the point of detail simply did not matter. "We went through a lot of discussion on Toy Story, the first one, about like, 'If Buzz doesn't know he's a toy, why does he go rigid when a kid walks in the room? We had a lot of explanations and talk about that, too. And in the end, nobody cared," Docter explains. He adds that within the process of creating and telling the story, the most important is to predict which aspects of the plot the audience will engage with most "or at least push their interest there."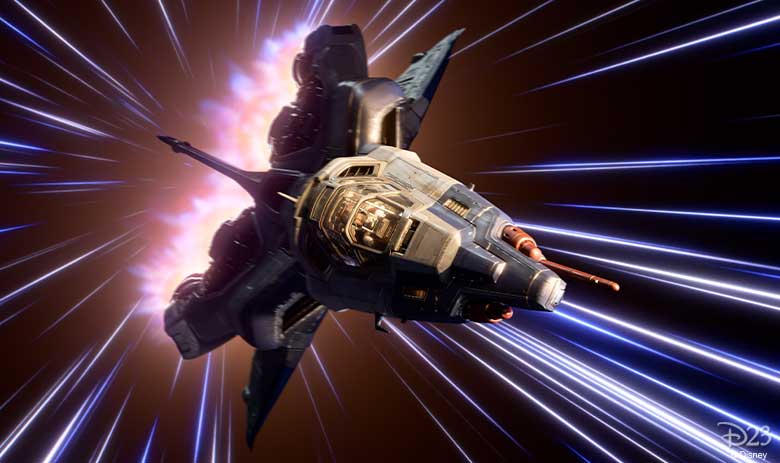 So now you know: Lightyear is indirectly the backstory of Buzz Lightyear, in that it actually tells the backstory of the man on whom the idea of Buzz Lightyear was built.
Catch PIXAR's Lightyear in theaters on June 17, 2022. COVID permitting, of course.