Over the last few days, Disney's "Minnie" vans have been spotted here and there around the Walt Disney World Resort, but only a few times, which has us wondering: is Disney's Minnie Mouse-themed rideshare service gearing up for a triumphant return?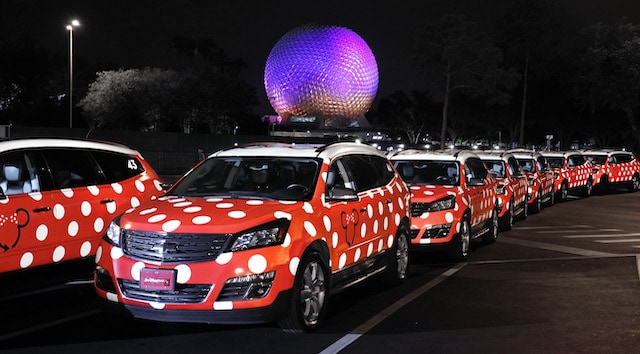 The service first became available to Guests at Disney World in 2017 at select Disney World Resort Hotel locations. Its availability grew to encompass the entire Walt Disney World Resort property and also offered transportation to and from Orlando International Airport (MCO).
For between $20 and $50, Guests could reserve a Minnie van via the Lyft app, powered by a partnership between Disney and Lyft exclusively for this service. Some Guests found it incredibly convenient, and many families with children enjoyed the perk of each van coming with two child seats. Others balked at the cost, opting for traditional Walt Disney World transportation instead.
The future of the Disney World Minnie Van service has been questionable at best ever since nearly 30,000 Cast Members were laid off in response to the growing coronavirus pandemic crisis.
Cast Members were initially furloughed in April 2020, after Walt Disney World closed to Guests in March. During that time, Disney continued to pay premiums for Cast Members' health insurance benefits, but as time went on, Disney World execs were faced with the very difficult prospect of laying off Cast Members, and at the time, no one knew when the parks would reopen.
RELATED: Disney fans unite to sign petition that would remove Chapek from post, replace him with Josh D'Amaro
The decision was indeed a difficult one for everyone involved, especially for Josh D'Amaro, then-President of the Walt Disney World Resort, whose heart for the Cast Members affected could be heard in his announcement to them:
"In light of the prolonged impact of COVID-19 on our business, including limited capacity due to physical distancing requirements and the continued uncertainty regarding the duration of the pandemic–exacerbated in California by the State's unwillingness to lift restrictions that would allow Disneyland to reopen–we have made the very difficult decision to begin the process of reducing our workforce at our Parks, Experiences and Products segment at all levels, having kept non-working Cast Members on furlough since April, while paying healthcare benefits.
Approximately 28,000 domestic employees will be affected, of which about 67% are part-time. We are talking with impacted employees as well as to the unions on next steps for union-represented Cast Members."
RELATED: Cast Members must be fully vaccinated per Disney; are Guests next?
Cast Members and Disney fans of all ages were elated to receive the news that the Walt Disney World Resort would begin a phased reopening. But when that reopening began on July 11, 2020, the Minnie vans were nowhere to be seen, and as time went on, Guests wondered if the paid rideshare service would return or if it would be shelved forever.
This week's isolated sightings of the cheery red vans with white polka dots has our interested piqued at the least, and has us hopeful for their return at best, but at this time, Disney remains tight-lipped about the program, so for now, we're left to wonder whether Cast Members are simply using the vehicles for convenience while working and performing duties around the Disney World property areas, or if things are moving toward a re-igniting of the service.
When it was aviaalbe, did you and your family access the Disney Minnie van service to move around the property more easily, or did you find the cost too high? Let us know in the comments!