The Sunshine State–home to the Walt Disney World Resort–reported a staggering daily number of 85,707 new COVID-19 cases from the weekend. This is in keeping with its trend since Christmas Eve, when the state first broke its record from the summer months for daily number of new COVID cases.
Additionally, the number of patients in Florida who are currently hospitalized with COVID-19 infections continued to rise as the new year rushed in. Nearly 6,000 people fit under that heading as of Sunday, an increase of 110% in a week's time, and is the highest number Florida has seen since September.
Sadly, there seems to be no drop-off in the number of new cases or in hospitalizations in sight.
New cases over the holiday weekend put Florida's current 7-day average for coronavirus cases at 51,873. That average has increased for four weeks straight now and is currently more than two times higher than at any other time during the nearly two-year-long pandemic so far. Florida also had more than 60 deaths from COVID over the weekend.
According to data from the U. S. Centers for Disease Control, positivity rates for COVID testing in Florida have also risen. At this time, all of Florida's 67 counties are considered "high risk" for community transmission or spread. In Orange County, home to Disney World, the positivity rate is 35%, meaning that more than one in three people who get tested are positive for COVID.
Florida still maintains the fourth-highest number of cases in daily averages, though the number of deaths in the state during the omicron variant surge across the globe has remained relatively low.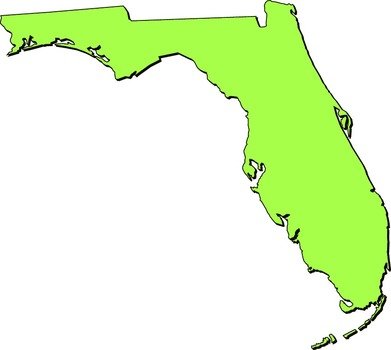 In light of Florida's increase in COVID cases, Governor Ron DeSantis (R) said today that he'll re-establish sites for treatments for Floridians with COVID-19 as soon as the federal government sends those treatments, according to The Orlando Sentinel. Further, he laid the blame for Florida's long lines at COVID testing centers at the feet of the federal government as well, citing a shortage of COVID tests, and apparently made no mention of his administration's efforts to stop any vaccine or mask mandates in the state.
RELATED: Gov. DeSantis signs anti-vax legislation into law during special session
"We will turn on additional sites as soon as the federal government gives us the supply," DeSantis said while at a Fort Lauderdale hospital today. DeSantis also said that the government has promised Florida between 30,000 and 40,000 doses of monoclonal antibodies.
"It's all locked and loaded," he added. "It's just a matter of the federal government giving us more doses."
Governor DeSantis didn't share information about when he expects the arrival of the antibodies but says that when they do arrive, treatment sites will be set up in Miami-Dade County, Broward County, and Palm Beach County immediately.
The Biden Administration has said it will withhold some of those antibody treatments, based on data from some studies that suggest the omicron variant of the virus may not respond as well to monoclonal antibodies as the delta variant did. DeSantis has criticized this decision.
Florida's Surgeon General, Joe Ladapo, notified the federal government that his state is still seeing COVID cases originating from the delta variant of the virus, and he received a response from the Health and Human Services Department, saying the agency would be forwarding those treatments to Florida, but they have yet to arrive.