Which city in Central Florida near the Walt Disney World Resort celebrates Christmas bigger and better than any in the Sunshine State? Here's a hint: the city's got "celebrate" in its name! Give up? It's Celebration, Florida, of course!
Once upon a time in 1996, the Walt Disney Company founded a town called Celebration. It used to be known as "Disney's Town of Celebration," but over the years, people started calling it "Celebration." The quaint little town was built with the idea of "New Urbanism," which isn't quite the utopia Walt envisioned in his "progress city," but Celebration does function just a little bit differently from other towns.
Disney World opened in 1971 and became an instant success. The Resort's second park, EPCOT, opened in 1982, and the 80s became a time of great expansion for the Walt Disney World Resort. It was during this time also that Disney execs began to think of developing the property owned by the company that lay on the east side of Interstate 4 and south of US 192.
Many thought the Walt Disney Company would try to bring to fruition Walt's idea for an experimental prototype community of tomorrow–a largely self-sufficient, utopian-type community. But that's not what happened. Celebration does, however, set and keep standards for houses built there, among other things. For example, houses built in Celebration must have a front porch, and the garage must be built on the backside of the structure.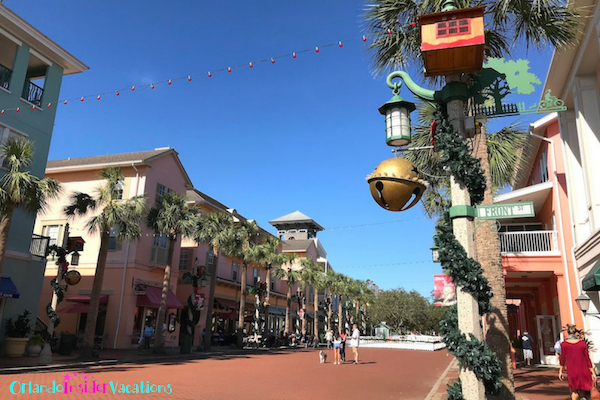 And though Walt's EPCOT is not what was built just outside the Disney Parks, Celebration, Florida, does have one very Disney thing down, and they do it very well–celebrating. And at no other time during the year is that more evident than during the Christmas holidays. The town of Celebration knows how to do it up right for the holidays!
Every night beginning in November, the town of Celebration sees snowfall, especially those who are located on Sycamore Street in Celebration. It looks just like the real thing, but Celebration's snow a is non-toxic, biodegradable product. It's icy, you won't get frostbite, and you won't need any mittens or gloves. Some locals say it's good to bring a change of clothes if you'll be in the "snow" for a long time.
And there's a lot more than just snow to bring out the festive spirit in the townspeople.
The whole town of Celebration turns into a kind of winter wonderland you wouldn't expect to find in Central Florida. For starters, an ice rink appears out of nowhere during the winter holiday season. There are carolers singing on the town street corners. The air carries with it the cozy aromas of hot apple cider and hot chocolate, and you just have the follow the scent to have a piping hot cup for yourself.
It's especially festive for residents along Jeater Bend Drive and for those who drive through the area between Thanksgiving and December 31. That's because homes along Jeater Bend Drive get all dressed up in their dazzling Christmas lights best for the annual "Lights on Jeater Bend" event. Multiple homes participate in the lights event, and visitors can drive through the neighborhood and watch the lights "dance" to music via a special station on their radios.  Some townspeople enjoy the lights on foot, opting to skip the traffic in a vehicle.
RELATED: Florida man designs dazzling Christmas lights show for his neighborhood with a little help from Disney
The townspeople recommend staying in Celebration during your visit if you want the full holiday celebration experience. The Marriott Bohemian Hotel in Celebration is a nice change of pace. It's part of the Marriott Autograph Collection of hotels and offers guests an upscale experience right by the lake.