Disney+ and Lucasfilm have just released a brand-new poster ahead of the release of Season 3 of The Mandalorian.
The Star Wars-inspired series premiered on the Disney+ streaming platform in 2019 to an audience that included Star Wars junkies as well as those not quite as taken aback by the galaxy far, far away (this writer included). It features a laundry list of dynamic directors, including Dave Filoni, Rick Famuyiwa, Deborah Chow, Bryce Dallas Howard. Taika Waititi, Jon Favreau, Peyton Reed, Carl Weathers, and Robert Rodriguez.
The star-studded cast of The Mandalorian includes the following:
Pedro Pascal as Din Djarin/The Mandalorian
Gina Carano as Cara Dune
Giancarlo Esposito as Moff Gideon
Carl Weathers as Greef Karga
Emily Swallow as The Armorer
Omid Abtahi as Dr. Pershing
Nick Nolte as Kuiil
Werner Herzog as The Client
Taika Waititi as IG-11
Bill Burr as Migs Mayfeld
Mark Boone Junior as Ranzar Malk
Ming-Na Wen as Fennec Shand
Jake Cannavale as Toro Calican
Natalia Tena as Xi'an
Clancy Brown as Burg
Richard Ayoade as Q9-0
Ismael Cruz Cordova as Qin
Temuera Morrison as Boba Fett
Misty Rosas as "Frog Lady"
John Cameron as "Frog Man"
Katee Sackhoff as Bo-Katan Kryze
Horatio Sanz as The Mythrol
Timothy Olyphant as Cobb Vanth
Sasha Banks as Koska Reeves
Simon Kassianides as Axe Woves
Mark Hamill as EV-9D9 (uncredited) and Luke Skywalker
Rosario Dawson as Ahsoka Tano
Matthew Wood as Bib Fortuna
Christopher Lloyd as a character that is yet to be introduced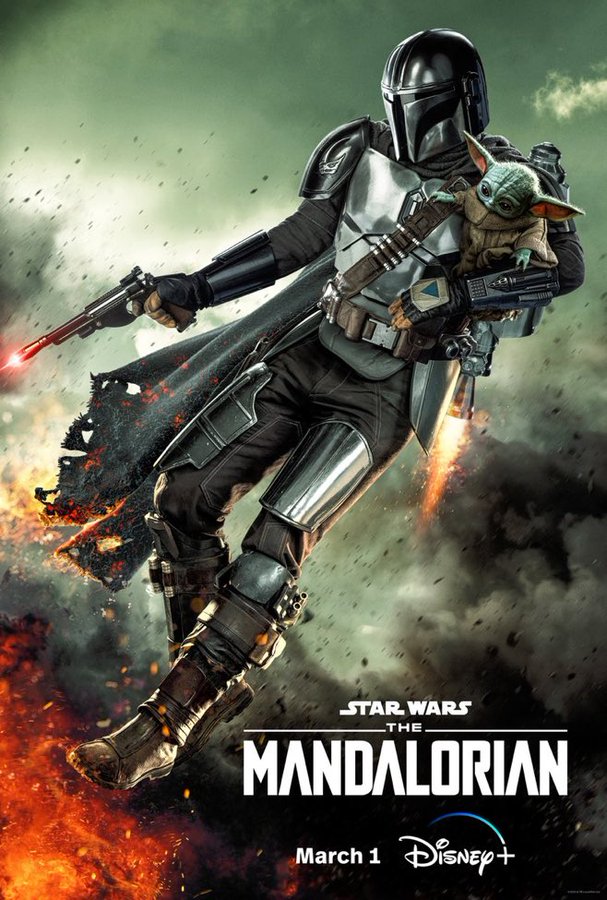 After the stories of Jango and Boba Fett, another warrior emerges in the Star Wars universe. The Mandalorian is set after the fall of the Galactic Empire and before the emergence of the First Order. We follow the travails of a lone gunfighter in the outer reaches of the galaxy far from the authority of the New Republic.
The series begins proper with the introduction of the Mandalorian, an enigmatic bounty hunter who is considered one of the best. After accepting a mysterious job from an unnamed client, the Mandalorian is hit with a moral dilemma when he learns that his bounty is a small defenseless infant. Now on the run, the Mandalorian must do everything he can to protect the Child even when he discovers that it itself hides a secret.
The second season has the Mandalorian and the Child (revealed to be named Grogu) continue the search for more Jedi. They make further enemies in the wild untamed outer reaches of space and meet other warrior allies, such as Bo-Katan Kryze, Ahsoka Tano, and Boba Fett.
The new poster for the series (as seen above) debuted on Monday, and the new season will debut on March 1, 2023, only on Disney+.