We previously shared the news that Joe Rohde, veteran Walt Disney Imagineer, announced he will retire after working 40 years with Disney. He was the lead designer of Disney's Animal Kingdom with major influences on Expedition Everest. He was also one of the lead designers behind the Disney Vacation Club property Aulani in Oʻahu, Hawaii. Well, January 4, 2021 was Joe's official last day. He celebrated the big day and even donated an important pairs of boots to the Walt Disney Archives.
Joe took to Instagram to share the above photo with the message: "Well. This is it. I will be just Joe Rohde, creative guy, after today. I still plan to work some, but in new areas and new mediums, and I'd also like to just paint. I heard that the postponed Explorers Club expedition to Nunavut, way up north, is back on, so I can prepare for next August when that will happen. Since November when I announced my retirement from Imagineering, I've received lots of very nice congratulations and testimonials from people for whom my work has made a difference. That is gratifying and I'm very thankful to all. People have also warned me about feeling bored by retirement… but I truly have so many deferred projects that I know I cannot complete them all in any rational amount of time I may have. Books. Paintings. Sculptures. Plays. Chores. Expeditions, and time to spend with my wife Melody, whom I met when we were still in school and who has been with me through all of this huge adventure…and with my boys, now grown young men starting their own careers. As much as I have enjoyed my work, and the joy it has brought to so many…my family has always been my first and greatest love. Last night we all got together (only one lives off the Rohde campus right now) we raised our glasses and toasted. .. "Here's to forty years.""
For a no obligation, FREE Quote with new bookings contact our sponsor Magical Vacation Planner by calling: 1(407)442-0289 Or for a free no obligation quote with new bookings you can fill out the form by Clicking HERE!


D23 shared a special article about "The Sole of Joe Rohde: A Walt Disney Imagineer's Boots on the Ground" to go along with Joe's boot donation as shared below:
In the archival world it is very rare to find a single object that can reveal a sweeping story all on its own. Recently, the Walt Disney Archives was honored to receive the donation of just such an asset—a pair of simple work boots that embody the legendary career of Disney Imagineer Joe Rohde.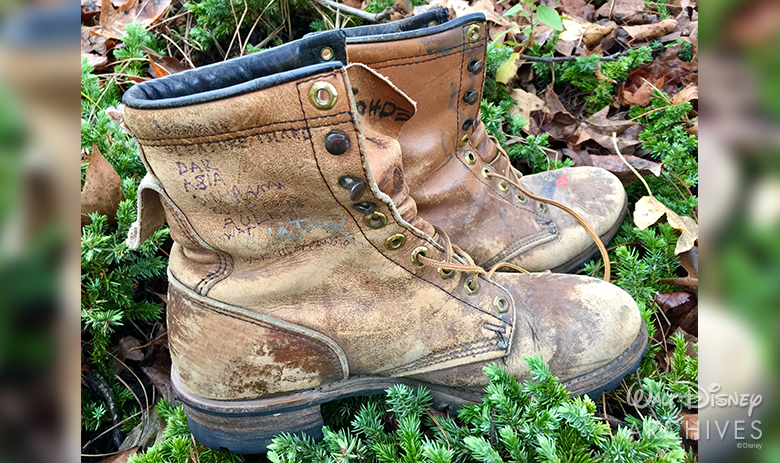 Joe retired from Walt Disney Imagineering on Monday, January 4, 2021, after an amazingly productive career designing some of Disney's most beloved and richly detailed attractions and experiences. As one of the top designers at WDI, Joe led every one of his myriad immersive projects with "boots on the ground"—passionately guiding each of them from concept to completion. And he wore the same pair of boots while working on each of those projects—with the names of each completed adventure scribbled on the side, capturing history in the making.
From the grooves of Pleasure Island into the wilds of Disney's Animal Kingdom, and from Pandora – The World of Avatar into galaxies far beyond, Joe's imagination is boundless, but his feet have always been firmly planted on the ground, thanks to a very special pair of boots.
You will be missed Joe! But, we're so thankful to experience the work you put into Disney's Animal Kingdom, and so much more, each and every time we visit Walt Disney World. Cheers to retirement!