This year has been one of immense loss for The Walt Disney Company, despite its revenue earnings over the course of the year.
RELATED: I Never Dreamed a Disney Film Could Help Me Process the Grief of Loss. Until Now.
Countless changes came to Disney during 2022–some very welcome, and some not so welcome. EPCOT's Guardians of the Galaxy: COSMIC REWIND experience finally opened to eager Guests this year, as did the Connections Cafe' and Eatery at EPCOT and Finding Nemo: The Big Blue . . . and Beyond! at Disney's Animal Kingdom. And several experiences finally returned to Disney World following a long break set into motion by the coronavirus pandemic. Fantasmic! returned to Disney's Hollywood Studios and to Disneyland Resort, the Harmony Barber Shop reopened at Magic Kingdom, and the Hoop-Dee-Doo Review show at Disney's Fort Wilderness made a comeback as well.
Other changes at Disney weren't so exciting. At Disney's theme parks, Guests' frustrations over the Park Pass Reservation System continued to grow as more and more fans found it difficult to score a reservation for the days they wanted in the parks, whether they were annual passholders or single-day ticketed Guests. Ticket prices increased yet again, leaving Guests extremely frustrated at the way Disney seems to maximize on inflation, rather than shield fans from it inside their various magical "worlds" and "lands" outside the real world.
And though ticket price increases, restaurant menu item price increases, and the like proved to be positive changes in revenue for Disney, 2022 also brought changes for The Walt Disney Company that represented immense loss. Beginning on New Year's Eve of 2021, the sands of time wound down for many actors, actresses, artists, former Imagineers, and others who have played starring roles in one capacity or another for Disney.
Betty White
As the world was anticipating the arrival of the new year, actress, comedian, and sweetheart funny lady Betty White departed on December 31, 2021, leaving behind millions of fans who loved her and mourned her passing. She was to turn 100 on January 17, 2022, and a huge "party" was to take place at moviehouses across the country. White's fans were encouraged to participate in the celebration, which would feature a special presentation about her life's works at select theaters in the U. S.
The commemoration of her birthday still took place in January as planned, but the presentation played out for fans who were grieving the loss of a beautifully talented actress and comedian who began bringing laughter to fans in 1949.
RELATED: Home of Beloved Funny Girl Betty White Destroyed Less than a Year After Her Passing
Bob Saget
Still reeling from the news of Betty White's passing on December 31, fans of the comic arts and those celebrities who wield their powers to bring laughter to the masses were shocked as news broke on Sunday evening, January 9, that comedian and actor Bob Saget had been found deceased in his hotel room at the Ritz-Carlton Orlando earlier that day. Saget, who was only 65 at the time of his passing, was in Florida to perform during his I Don't Do Negative tour.
On Sunday, after his family was unable to reach him via text or phone, Ritz-Carlton security officers performed a welfare check in his hotel room. They found everything in the room neat and tidy, and Saget was lying in his bed. It would be weeks before the final autopsy report–which caused a stir of emotion and disbelief amongst fans and questions among those in the medical community–showed the cause of Saget's death. Though the cause of death was related to head trauma, the official autopsy report detailed far more than that.
Sidney Poitier
On January 6, the world bid farewell to Sidney Poitier. He was 94.
Poitier was a civil rights leader and actor, and he served on the board of The Walt Disney Company after Frank Wells, Chief Operating Officer at Disney, lost his life tragically in a helicopter crash on Easter 1994. He was appointed by Disney's then-CEO Michael Eisner.
RELATED: Former Disney CEO Lists His Sprawling Malibu Estate for $225 Million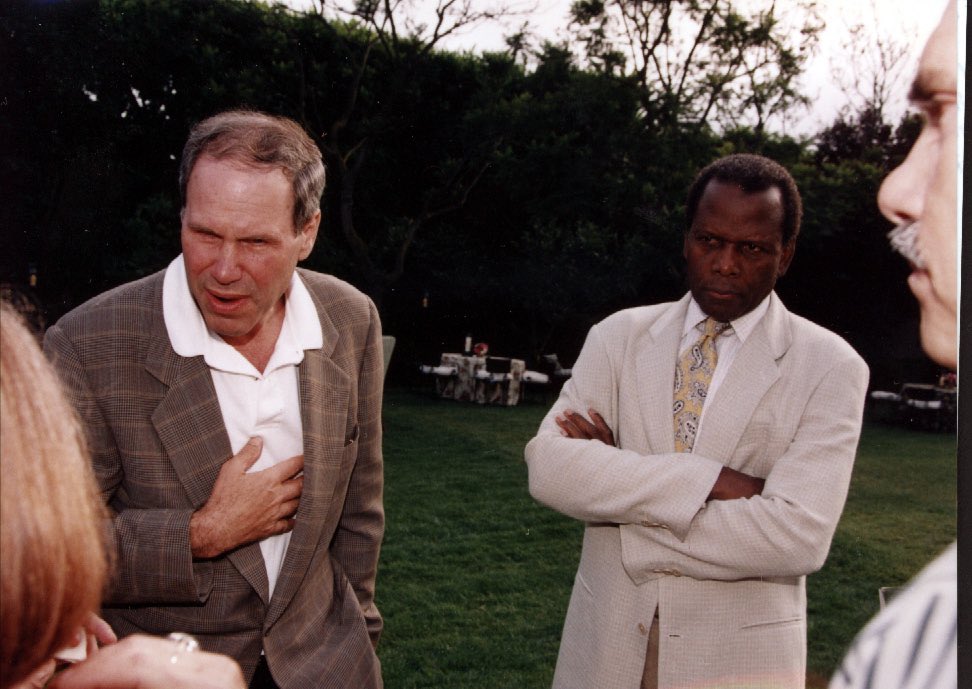 Queen Elizabeth II
In September, the world bid a tearful farewell to the longest-reigning monarch in British history, Queen Elizabeth II. Her Majesty the Queen took the throne on February 6, 1952, and served until her death on September 8, 2022. Her legacy as the British monarch spanned more than seven decades. She was a mother of four, a grandmother to eight, and a great-grandmother to twelve.
Disney UK honored the late Queen with a tweet on Twitter that featured a drawing of the British monarch alongside Disney's Winnie-the-Pooh.
Rest in peace, Your Majesty 🖤 pic.twitter.com/a61oRiRpvE

— Disney UK (@Disney_UK) September 8, 2022
Her long reign was unmatched by any other. But while a majority of the world mourned the passing of Her Majesty the Queen, not everyone was grieving. Some recounted Great Britain's dark history and demanded an apology from the Commonwealth for historical atrocities related to England's colonization of other parts of the world.
Queen Elizabeth II was 96 when she died, surrounded by family, at Balmoral Castle in Ballater, Scotland.
Gilbert Gottfried
Actor Gilbert Gottfried died in April 2022, after battling a lengthy illness. The funny man was known for his iconic voice, and for Disney, he is best remembered for lending the talents of that iconic voice to the little red bird (and stool pigeon extraordinaire), Iago, who is Jafar's sidekick in Disney's Aladdin.
Angela Lansbury
The Disneyverse suffered yet another loss in October 2022 with the passing of actress Angela Lansbury. Lansbury was best known for her role as novelist Jessica Fletcher on CBS's Murder, She Wrote.
Per Disney Fandom, "Dame Angela Brigid Lansbury, DBE was a British-Irish actress and singer, who is best known for her role as a mystery writer and detective Jessica Fletcher in the TV series Murder, She Wrote. For Disney, she played Miss Eglantine Price in Bedknobs and Broomsticks, and voiced Mrs. Potts in the Beauty and the Beast franchise. She also played The Balloon Lady in Mary Poppins Returns."
Estelle Harris
In April of this year, fans of NBC's Seinfeld, starring comedian Jerry Seinfeld, and fans of the Toy Story franchise mourned the loss of actress Estelle Harris.
Harris lent her voice to Ma in the Timon & Pumbaa episode "Mombasa-In-Law." She also voiced Lula in Dave the Barbarian, Mrs. Turtle in Mickey Mouse Works, the old lady bear in Brother Bear, Audrey in Home on the Range, and Mama Gunda in Tarzan II. Harris also voiced Helga in The Proud Family episode "Thelma and Luis."
The actress also had a recurring role in The Suite Life of Zack & Cody in its first season, and she played the role of Grace Gallagher in Sonny with a Chance. She was the voice of Peg-Leg Peg in the Jack and the Never Land Pirates series on Disney Junior, and she also lent her voice to Mrs. Turtle in House of Mouse and Mickey Mouse Works.
But she was best known for lending her voice to Mrs. Potato Head opposite Don Rickles as the voice of Mr. Potato Head in PIXAR's Toy Story franchise: Toy Story 2, Toy Story 3, Toy Story 4, and three Toy Story shorts, including Hawaiian Vacation, Small Fry, and Partysaurus Rex.
Franco Dragone
On September 30, Disney and the world suffered the loss of Franco Dragone, the Italian-born Belgian theater director who founded and served as artistic director at Dragone, the company that bears his name and works to create large-scale theater shows, such as those performed by Cirque du Soleil, including those enjoyed by Guests at Disney Springs at the Walt Disney World Resort.
The Cirque du Soleil company released a statement following the announcement of his passing, which read in part, "Franco was an industry icon. Responsible for some of our most successful productions, including 'Nouvelle Expérience,' 'Alegría,' 'Mystère,' 'O', and 'La Nouba,' he has contributed invaluably to the success of Cirque du Soleil. His passing is a loss not only for his family but for the entire industry."
Mickey Rooney, Jr.
In July, the world said goodbye to Mickey Rooney, Jr., a former Mouseketeer on the Mickey Mouse Club and the oldest son of actor Mickey Rooney.
His tenure with the Mickey Mouse Club was short, but he earned several acting roles in films, and he wasn't the only one in his family to have Disney credits on his resume. His father, the late Mickey Rooney, was known for several roles at the House of Mouse. In the 1970s, Mickey Rooney played the role of Lampy in Disney's Pete's Dragon. In 1981, Rooney voiced Tod in The Fox and the Hound, and he later played in the Disney Channel Original Movie, Phantom of the Megaplex. 
Pat Carroll
On July 30, Disney mourned the loss of one of the most iconic voices ever to lend her talents to any Disney film. Pat Carroll, famous for her role as Ursula the Sea Witch in Disney's The Little Mermaid, died at her home in Cape Cod over the summer.
Tara Karsian, one of Carroll's daughters, took to social media to post about the family's desire for others to "honor [Carroll] by having a raucous laugh at absolutely anything today (and every day forward) because, besides her brilliant talent and love, she leaves my sister Kerry and I with the greatest gift of all, imbuing us with humor and the ability to laugh . . . even in the saddest of times."
Disney stars represent some of the most incredible talent in Hollywood, some of whom have won a Grammy Award or Best Actor Oscar Award during their careers outside of Disney.
The number of Disney celebrities who died in 2022 brings sadness to their many fans. And while these are only a few of the losses the world experienced in 2022, they represent a year of immense loss for The Walt Disney Company as a whole, and they will be greatly missed. Other celebrities lost during 2022 include Foo Fighters musician Taylor Hawkins, Olivia Newton John, Leslie Jordan, Harry Potter's actor Robbie Coltrane, Nichelle Nichols (best-known for her role on Star Trek), actress Anne Heche, Loretta Lynn, Ivana Trump, Christine McVie, and actor James Caan.
While these are only a few of the losses the world experienced in 2022, they represent a year of immense loss for The Walt Disney Company as a whole, and they will be greatly missed.